Lacoste - Dunlop Aerogel 4D 200 Tennis Racquet - Pink Nike French Open Shoes - Babolat Synthetic Gut
Below, I am pasting our latest email to our list.
FROM:
Tennis Zone, Inc.
2713 Miamisburg-Centerville Rd.
Dayton, OH 45459
937-436-4700
info@thetenniszone.com
www.TheTennisZone.com
TO: Tennis Zone Customers
RE: Lacoste... Shoes... Babolat Syn-Gut... Power Balance... Pink Nike Shoes
Greetings,
Tennis Zone
Customers.
Play in the Zone this week for deals, new arrivals and a wristband that might change your life.
(Even if, after the agility tests, the
wristband
doesn't make you feel perfect in every way, at least we have good shoe buys.)
First, a few notes on sales:
1.) New Lacoste Arrivals: 20% Off Apparel, Spring and summer hats are 50% with any Lacoste purchase. (in store only)
2.) Last Season's Lacoste Styles: 40% Off All Apparel (in store only)
3.) All Youth Apparel: 20% Off
4.)
Babolat Synthetic Gut:
$3.50 a package
No Business Like Shoe Business
Shoes are the hottest item right now.
I'm glad we have lots of styles available, and now, a few deals.
You can get by with sale items for our apparel, but it would not be wise to risk an injury on shoes that you bought because the deal was too good to pass up even though the fit wasn't good.
Don't pay the price.
We had a good reponse last week's No-Shoes-Over-$99 promotion, and sold a few pretty interesting styles.
This week, some are going way back up; others are going down even further. - This even includes some new styles.
The
$120 Rafa shoes with the pink swoosh
are going for $89 through our showroom.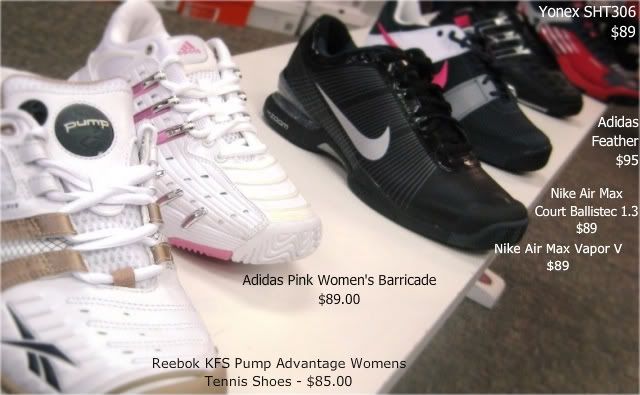 Through Sunday, April 26th at 6pm, we're selling this shoe, and
other pink Nike items for 25-35%
The new Nadal shirt
goes from $60.00 to $40.00
The
shoes
go from $120.00 to 89.00
Not bad.
Do The Tests, Become A Believer
We just heard from our rep that these are shipping next week.
The
Power Balance
is a small hologram of film (the same stuff used for imprinting CDs, movies and pictures) enhanced with frequencies that have produced amazing results when combined with the body's energy field.
It's put in a wristband, and as long as it is close to your body, it reacts with your body's energy field.
Click Photo To Pre-Order
Come by the shop, do the agility tests, and
book yours
. - They arrive next week.
If you're online, buy one, just hold it for a few minutes while you do the agility tests, and return it if you don't like it.
I've done the tests, and I do believe Power Balance improves agility, as do top NFL draft prospects, current NFL players and professional surfers.
I am positive a top-tier tennis player is going to be seen wearing one very soon.
Imagine what
Rafa
would be like in one of these.
Be sure to follow us on Facebook,
Tennisopolis
and our
blog.
.
See you at the Zone.
-Ben of The Tennis Zone