Back is almost facing target on takeback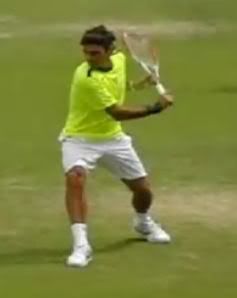 Closed and bladed at contact"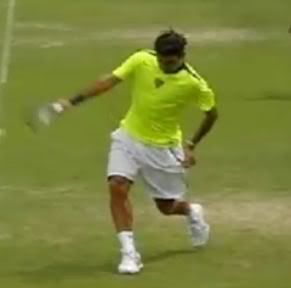 After contact, chest facing target: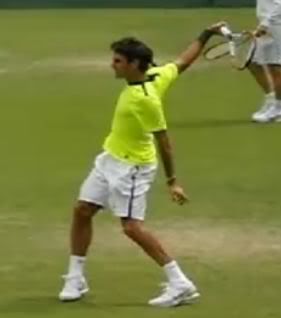 pics from "smoothtennis" at http://tt.tennis-warehouse.com/showthread.php?t=406079&highligh...
With the nondominant hand, it is possible to create more power by coiling both the shoulder blade and the head of the hitting shoulder.  Notice Federer's chin is over his shoulder, the back is turned to the ball. This creates a muscle stretch. A muscle which is stretched or coiled creates power upon release. Look at these other pictures of other pros using this concept:
The thing to notice with all of these pictures (Federer, Kuerten, Gasquet) is that the wrist is cocked with the knuckles upwards. A greater degree of wrist rotation gives the modern backhand more power and speed. The knuckles do not start low as in the older backhand styles (e.g. Lendl).
Give it a whirl. Turn your shoulder blade to the target, tuck the chin over the lead shoulder and point the knuckles upwards instead of to the side. You may just arrive at the MODERN BACKHAND!